Like all the court cards, the Knight of Pentacles can represent either a person in our lives or a quality that is ready to emerge in us. If it is the former, then he will be gentle, kind, sensible, pragmagtic and dependable. His down-to-earth nature, together with his ablity to work hard means he usually achives what he sets out to do. He applies himself paitently and although he lacks greave vision, knows what he is able to accomplish.
He aims are modest and his caution make him a reliable, honest worker. He is preduent in his handling of finances, enjoys a quiet, simple life, and is happy living within his means.
When this card symbolizes a quality, it indicates a positive outcome to a situation that may have appeared hopeless.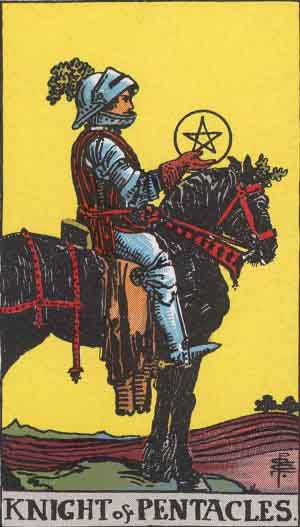 _________________
There is a place where darkness and beutay meet.
Where romanticism and love are a strength
and were the seemingly delicate shine with thier own
power