Fear of upsetting the status quo is the meaning of this card. We may find ourselves in a situation in which we are inhappy but afraid to change. Refusing to face up to things creates tension and this card suggests that, however hard we try and blind ourselves to the truth, the storm must break and life will invetibaly be disrupted.
We may be able to mantain temporarily a false sense of stablity, but this card indicates that the balance can be upset at any moment. Peace and quiet can only be maintained by self-restraint, but the equilibrium we are trying to sustain is far too volatile to hold in the long term.
We may feel we are in a "dammned if we do and dammned if we don't" scenarior, we cannot progress and we cannot escape. Sooner or later we need to pluck up the courage to confront the situation and trust that, once we have dared to address the issue we will be able to break the deadlock.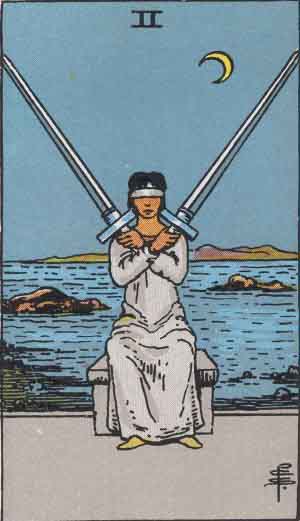 _________________
There is a place where darkness and beutay meet.
Where romanticism and love are a strength
and were the seemingly delicate shine with thier own
power