The lantern of knowlege carried by the Hermit illuminates our inner life. He reflects the spiritual quest that we embark upon when we are searching for inner truths. Contemplation, meditation, and refelction are some of the paths that connect us with our deeper selves.
Spending time by ourselves may lead us to the realization that we are all ultimately alone and that accepting this can help us accept our own mortality.
The Hermit sometimes implies enforced limitations in our lives and circumstances that only time and not the will can change. Though reconciling oursevles to this reality and acquiring the wisdom not to struggle with what we cannot change, we acquire a certain humility and calm acceptance. These are important qualilties, for without them the ups and downs in life would prove unmananageable.
The Hermit teaches us to trust that things will change when the time is right. Nothing can be forced. We can only wait in silence and be guided by that small voice within.
The Hermit may indicate that a wise teacher will come into our lives to help us connect with our inner wisdm.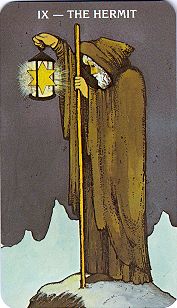 _________________
There is a place where darkness and beutay meet.
Where romanticism and love are a strength
and were the seemingly delicate shine with thier own
power