The lion dipicted in the Strength card signifies the power of our instinctual nature and desires. He is the symbol of the destructive urges within the psyche, but also represents our innate dignity and noblity. Strength illustrates the impulse to connect with the conflicting forces within us that we experince in the Chariot, so that we can learn to recognizee and mangae them.
Repressing or denying these aspects of ourselves as well as letting them run amok, can be destructive. Ideally we find a balance by channeling the energy of these passions into pisitive and creative activites.
Strength suggests that it is only by intergrating these unconscious impulses that we can become more aware and develop a greater sense of self. On a positive level, Sterngth offers the oppertunity for reconcilation with whatever operates destructively in our lives whether within or without. Neagatively it refelcts what happens when we are in the grip of unhealthy impulses or allow ourselves to abuse our power.
We learn that pardoxically connecting with our less acceptable traits such as anger and egotisim, strenghtens our sense of self rather then diminishing it.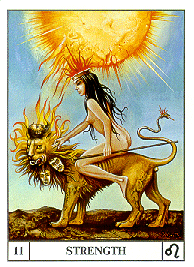 _________________
There is a place where darkness and beutay meet.
Where romanticism and love are a strength
and were the seemingly delicate shine with thier own
power