The three of cups is a card of great happiness. The first flush of a relationship is behind us and we are now ready to make a commitment to the future. This marks a time for rejoicing but the Three of Cups does not descirbe the final outcome of the relationship and reminds us that there is still a long way to go before we can feel that we are firmly established as a couple.
This is a healing card, spiritually, emotinally and physically. It affirms our faith in the future and supports our beleif that everything will turn out for the best. Any kind of joyus event is indicated from a wedding to the birth of a child.
We are ready to grow and express ourselves in new ways with this card, and we may be developing physcially or embarking on an artisitc porject that is deeply satisfying to us.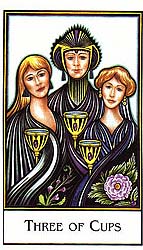 _________________
There is a place where darkness and beutay meet.
Where romanticism and love are a strength
and were the seemingly delicate shine with thier own
power