Triquetra is a word derived from the Latin tri- ("three") and quetrus ("cornered"). Its original meaning was simply "triangle" and it has been used to refer to various three-cornered shapes. Nowadays, it has come to refer exclusively to a certain more complicated shape formed of three vesicae piscis (a rounded or oval shape), sometimes with an added circle in or around it.
The triquetra has been found on runestones in northern Europe, and upon early Scandinavian coins. It presumably had pagan religious meaning, and it bears a resemblance to the Odin Knot or Valknut. Some have suggested that, like the valknut, triquetrae may have been a symbol of Odin
The triquetra is often found in Insular art, most notably metal work and in illuminated manuscripts like the Book of Kells. While it is uncertain what the symbol may have meant to the Celts, it is often found as a design element in larger drawings of triskeles or triple spirals.
Today the symbol is used as a representation of all trinities, and most specially that of the relams, of the Air, Earth and Sea.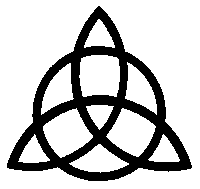 _________________
There is a place where darkness and beutay meet.
Where romanticism and love are a strength
and were the seemingly delicate shine with thier own
power