The four of cups depicts a state of boredom or apathy, in which we are too preocupied to appreacite the good things that surround us. Opportunities are there for the taking, but our inertia prevents us from seeing them. We may feel as if we are stuck in a rut but unable to muster the energy to break free.
This card does not necessairly mean our circumstances wrrant such dissatisfaction. We may have everything we need, but somehow take our own good fortune for granted. We are in danger of getting into a negative emotional pattern in which we fail to recognize the qualities of those around us.
The grass ma appear greener on the other side, or we mae long for something or someone that is unavilable.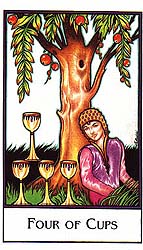 _________________
There is a place where darkness and beutay meet.
Where romanticism and love are a strength
and were the seemingly delicate shine with thier own
power