The Thee of Wands symbolizes new possiblities. Although we may have realized a dream, we become aware that there is even farther to travel. Exciting new oppertunities, of which we may not previously have been aware are now opening up and we are ready to continue what we set in motion with the Ace.
A fresh moementum is being generated and we feel motivated to launch ourselves into the task at hand. This card represents the strength and determination that are needed to perserve with our goals. It indicates that we must remaind focused.
The Three of Wands is an execellent indication of a favorable outsome and suggests that the time is ripe to promost ourselves and allow our talents to shine.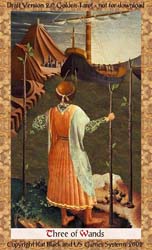 _________________
There is a place where darkness and beutay meet.
Where romanticism and love are a strength
and were the seemingly delicate shine with thier own
power