The Seven of Wands represents a time when we have to work extremely hard and sometimes even fight for what we have. After gainining much ground with the Six, we are now confronted with the reality of what will happen if we do not hold onto it, and with finding a way of both defending and improving our current posistion. We may feel embattled, but this card suggests that we have the fortitude to fend off the competition and secure our place in the shceme of things.
The Seven of Wands is a spur to growth, becasue healthy competiion encourages us to achvie our personal best and develop our talents. This card indicates the future success will be hard-won, but ultimately we will reach greater heights as a result of this.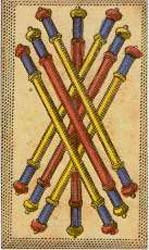 _________________
There is a place where darkness and beutay meet.
Where romanticism and love are a strength
and were the seemingly delicate shine with thier own
power