The Four of Pentacles describes an unwillingness to share our material or emotional resources. As a result, we become miserly with regaurd to mony and love. We may be so comftrable with our circumstances that we becfome complacent. Although it is very pleasent to be financially secure, the desire to hold on to what we have can stifle growth and block creative energy, so we stop moving forward and instead limit ourselves to what is familiar.
When we put too much emphasis on the material realm, we may lack vitality and inspiration. Our overcautiousness becomes an obstacle to further change and we become excessively possessive of what we have. We may even become suspicious of other people's motives.
This card suggests a need to confront our fear of letting go and recgonize why we are holding on so tighytly to our possessions and emotions.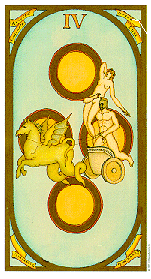 _________________
There is a place where darkness and beutay meet.
Where romanticism and love are a strength
and were the seemingly delicate shine with thier own
power