The feeling of loss inherent in the Five of Pentacles may refer to our material and our emotional lives. Something on which we place great vaule is in danger of being forfeited. We may be having financial difficulties, relationship problems, or a crisis of faith. We may doubt our ablities or feel we have lost our spiritual direction. However we may be looking for support in the wrong place and have to reorientate ourselves.
This card indicates the need to align ourselves with our inner spirituality. Thew more solid we are in our inner world the more likely we are to feel secure in our external world. The Fiver of Pentacles reminds us that we have the resources but need to find new ways of vauling ourselves.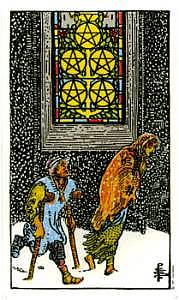 _________________
There is a place where darkness and beutay meet.
Where romanticism and love are a strength
and were the seemingly delicate shine with thier own
power