This is often thought of as a lucky card and signifies that everything is destined to trun out well for us. "What goes around comes around" is an apt saying for the Six of Pentacles and we can exepct to reccive what is rightfully ours. Financial help may be in the offing and whether through our own efforts of forutnate circumstances we will reccive the help we need at just the right time. By the same token, we are feeling generous toward others and will want to show our apperciation. We may have the chance to fulfill a karmic obligation, clear a debt or repay a favor.
We are now able to reccoup our losses and regain our faith in human nature. This card makrs a more ethical reltationship with the matieral dimension of life.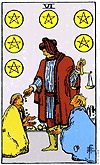 _________________
There is a place where darkness and beutay meet.
Where romanticism and love are a strength
and were the seemingly delicate shine with thier own
power