The Queen of Pentaclesis in touch with her own nature and enjoys her posistion in the world. She believes in herself and gives happily or her resources.
She comands resepct becasue of her worldliness and matieral wealth, and is both giving and self-sufficient. Her physical surroundings are imporant to her, but she is equally happy amid the beauty of nature or in a lovely home.
Her pressence in a spread indicates matterial and emotional security and a strong sense of well-being. We may experince an increase in finicial status or a more comftrable phase in our lives, both emotionally and physically. She also suggests that it is time to become more in tune with our bodies and our sensuality. We may need to pay more attetion to our health and diet in order to feel more at ease.
This Queen is attuned to the needs of others and we feel comforted in her pressence.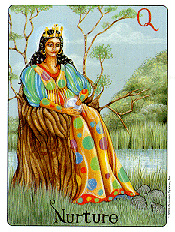 _________________
There is a place where darkness and beutay meet.
Where romanticism and love are a strength
and were the seemingly delicate shine with thier own
power