Balance is the most pressed issue when we choose the Two of Pentacles. We find ourselves having to juggle different needs and find ways of managing these confliting aspcets.
This card indicates a great deal of acitivity and a time when we have to take on extra responseablities. Sometimes the pressures of work or study conflic with our need for leisure time. Although harmony can be hard to achvie, the Two of Pentacles suggests that we have the neccssary pateince and endurance. We simply need to use our innate skills to cope with the irritations that crop up.
If we adapt a calm, paritcal outlook, this will help things run smoothly. Even minor setbacks can be handled with good grace provied we keep ourslves in check.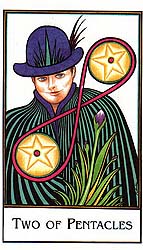 _________________
There is a place where darkness and beutay meet.
Where romanticism and love are a strength
and were the seemingly delicate shine with thier own
power